TABERNACLE BAPTIST CHURCH OF BURLINGTON NEW JERSEY
The Beginning Early in 1922, a small group banded together and began having services as a mission. They first met in the home of the late Booker T. Williams in Burlington, NJ. The success of the mission inspired the group to try to organize a church and joined Second Baptist Church Mt Holly NJ and received their letters of transfer. Reverend Wesley L. Gregory, the first pastor, who served faithfully for thirteen years, (1923-1936).
Period of Struggle
1938 Tabernacle Baptist Church was destroyed by Fire. The task of rebuilding was undertaken while servies were held temporarily in the basement of the Allen School on Wall Street in Burlington until restored.

1957 The Church and other areas on East 2nd Street were flooded. The membership was unable to utilize the church. Services were held at another location until the church was restored.
1959 The church and homes on the block were impaired by "road development construction by the City of Burlington. The membership felt it was a form of racial discrimination because the project was an excuse to interrupt worship services. The road development let to drainage problems, destruction of fencing around the church, loss of shrubberies and landscaping, hampered oil delivery and stopped mail delivery. Proof that all of the events were in effort for the City to purchase the property. The church officials and neighbors took legal action.
Growth and Expansion 1961 - 2010 In 1961, Reverend Richard W. Jones was called to be the pastor of Tabernacle Baptist Church. He came with his wife, Ethel B. Jones. Various expansion projects, new Sanctuary, Educational Facility, Multipurpose Facility (gym and auditorium), Solar Energy Project, many ministries established.
Period of Expectation 2010-2012 Pastor Richard W. Jones was peacefully called from labour to reward after serving for 48 years 6 months. A Pastoral Search Committee was launched.
New Beginnings 2012 Pastor Cory Jones became the 8th Pastor of Tabernacle Baptist Church. New Ministries formed, Music and Youth Ministries restructuring. Instrumental in establishing the Counseling Center and Congregational Fitness.
Move Forward in 2013 - 2019 Many Pastor and People Partnerships, various phases of Technology, Worship and Musical changes.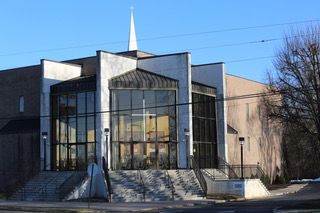 The Church Has Left the Building in 2020 led worship service, bible study, church conference, leadership meetings through through a Global Pandemic (COVID19)