TBC TEACHERS AND ASSISTANTS
Christian Education is looking for Teachers and Assistants
If you have the GIFT of teaching or administration, Christian Education is LOOKING for YOU!
Apply for Teachers/Assistants
TBC is hiring an Executive Chef
Looking for an Executive Chef
TBC is Hiring……………………………. If you can stand the heat and play well with fire, We're looking for you! We're looking for an Executive Chef! Please send your resume to trustees@tabernacle-burlington.org
Email Resume to Trustees
External Career Opportunities
Disclaimer
While Tabernacle Baptist Church makes every effort to present accurate and reliable information, it does not endorse, approve, or certify such career information and it expressly disclaims liability for errors and omissions in the applications or content of the information.
ABM Building Value
A FACILITY MANAGEMENT COMPANY
Is HIRING in Burlington: General Cleaners, Supervisors, Floor Technicians
Positions Available
Air Traffic Controllers
FAA Hiring Air Traffic Controllers
The FAA is hiring people interested in a career as an air traffic controller to "Be ATC". As an Air Traffic Controller, you will join the FAA's fast-paced, active team of 14,000 professionals across the nation working in radar facilities and in towers who help keep the skies safe.
FAA is Hiring
BERC Diversity Job Expo
Burlington Township Middle School @ Springside March 2, 4PM to 7PM
On March 2nd, the Burlington Township and Burlington City school districts in collaboration with Princeton Foods, Education Staffing Solutions and NutriServe, will be co-hosting a Job Fair at the Burlington Township Middle School @ Springside from 4PM to 7PM.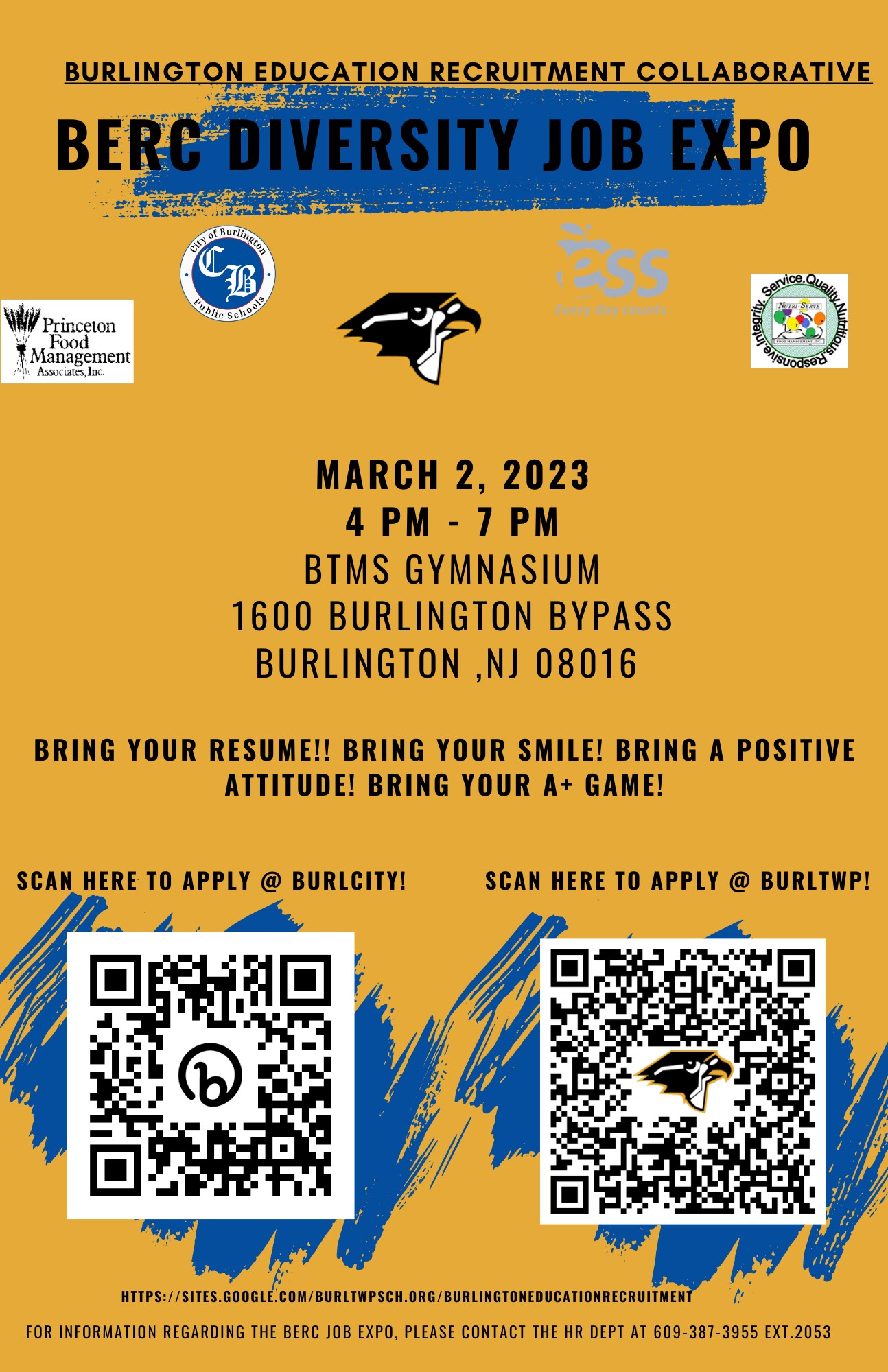 Civil Service Positions
The HRC Trainee positions (2) are open to all candidates who meet the requirements listed in the posting. These are great for recent graduates or candidates looking to enter state government.
The HRC 2 or 3 position "is open to permanent State employees who are in a career service title" and who meet the requirement listed in the posting.
Personnel and Labor Analyst 2 or 3: We are trying to recruit a recent law school graduate with experience in mediation, preparing research and drafting reports on State and federal statutes. They would also be performing regulatory and legislative functions as needed.
Current Job Openings
EAST WINDSOR REGIONAL SCHOOL DISTRICT 2022
POSTIONS AVAILABLE
Apply online click as follows: Departments/Human Resources/Employment Opportunities/Campus Security/School Nurse
Positions Available
Expert Pest Control
Seeking Full-Time Technicians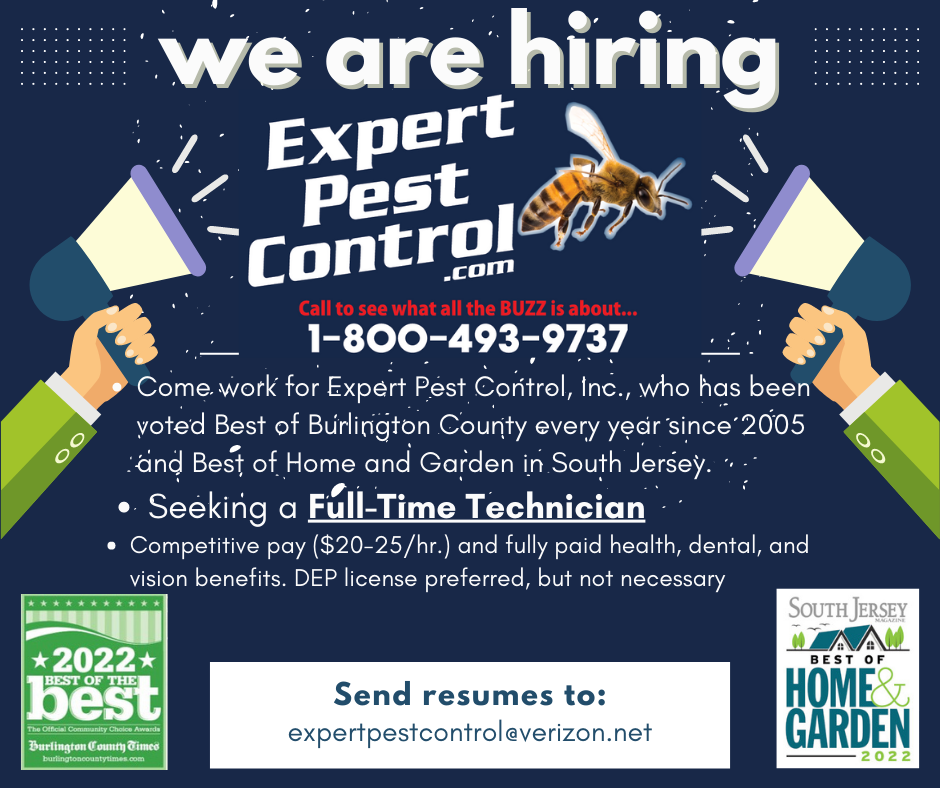 Email
NASA, HHS and OUSD Employment
This is your sub-headline
Try to limit your content to a maximum of 2 - 3 sentences so that you don't lose your readers interest. A great way to break up large amounts of text is to create additional blocks.
NASA Jobs
NJCMO
Come Grow Your Career With a Mission-Driven Care Management Organization
Your Career in Helping Youth and Families starts with CMO
CMO's Wanted
New Start Career Network Member
Do you know any NJ residents over the age of 45 who have been out of work for at least 6 months?
Do you know any NJ residents over the age of 45 who have been out of work for at least 6 months? The New Start Career Network New Start Network at Rutgers University is providing free support to these individuals, including access to premium job search tools, job search webinars, and the opportunity to work one-on-one with a volunteer coach to get back to work. If you'd like more information, please reach out to Michele Martin, Director of Technical Assistance, at mmmartin@rutgers.edu
OTC IS HIRING
Looking for CDL Class B Drivers
Please spread the word that OTC is looking for CDL – Class B drivers with air brake endorsement.
Resumes may be emailed to Jim McGurl at Email Jim McGurl. For hiring questions, please contact Jim at 609-267-6889 ext. 154.
The Enterprise Center
Support our team in Camden, NJ
We're growing and increasing our services across New Jersey! Please see our attached job posting for a Project Administrator to support our team in Camden, NJ! The Administrator will act as a connector for small business clients to all relevant business and capital services, systems, resources, and partnerships.
The Enterprise Center is looking for a business development expert to join our team in Camden, NJ! The Business Director will play a significant role as a project manager, cross collaborating with staff on other internal service teams and managing multiple external stakeholders and project partners.
Interested? See attached job description for more details & application instructions. Please share this opportunity with your networks!
Positions Available
The JPI Group
OJT - Clean Energy Careers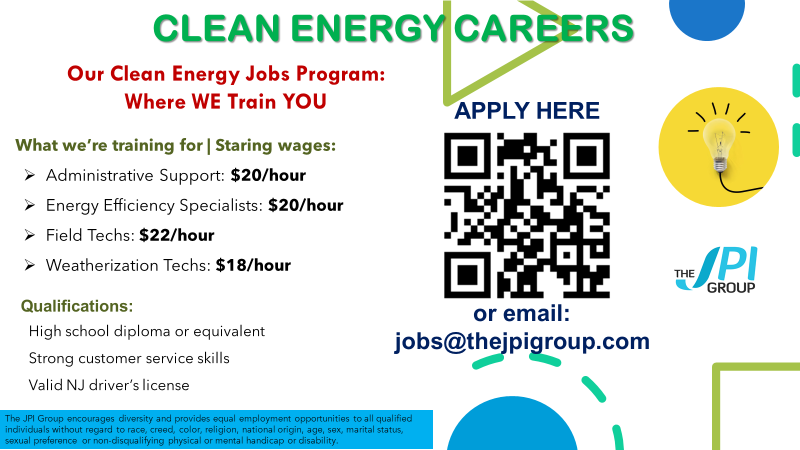 The JPI Group, have partnered with PSE&G (who is sponsoring this program) and other organizations in developing a program called The New Jersey Clean Energy initiative. The clean energy space is new but booming with lots of investments being dedicated to it which means great room and opportunities for growth! We will be training everyone from day one and everyone will be set up to succeed! These job opportunities are specifically designed for people who may not be experienced in energy but are looking to try something new with their careers (no specific experience is required). We're hiring people who want to bring clean energy to their community and apply their talents to better the world around them.
Positions available in this program include: Field Technicians Weatherization Techs Administrative Assistants
Anyone who is interested in this great opportunity is welcomed to apply and send their resume to jobs@thejpigroup.com.
Apply Now
The New Jersey Career Network Online Job Seeker Community
FREE support to job seekers
The New Jersey Career Network Online Job Seeker Community is providing free support to job seekers. Operated by the John J. Heldrich Center at Rutgers University, the NJCN Job Seeker Community provides online support to any NJ residents who are looking for work.
Some of the many resources the Community offers include:
Curated job search articles and resources
Webinars and opportunities to learn new job search strategies
Share & Support sessions facilitated by volunteer coaches
Online well-being activities (i.e. yoga, meditation, mindfulness exercises)
The New Jersey Career Network is a free resource to help New Jersey job seekers find meaningful work. This is not another job board. This is a new tool that can help job seekers grow their skill sets, elevate their search with new search techniques, and change how they approach their job search entirely. If you'd like more information, please reach out to Michele Martin, Director of Technical Assistance, at mmmartin@rutgers.edu.
Video Commercial
Virtua Careers
Partnering Together
Opportunities:
Full time, Part time, & Per Diem Opportunities available. Hiring for all shifts including nights and weekends.
If you are interested applying, please go apply on our website: Virtua Careers Opportunites
Looking for Careers at Virtua
Partners for Kids and Families, Inc.
Is Hiring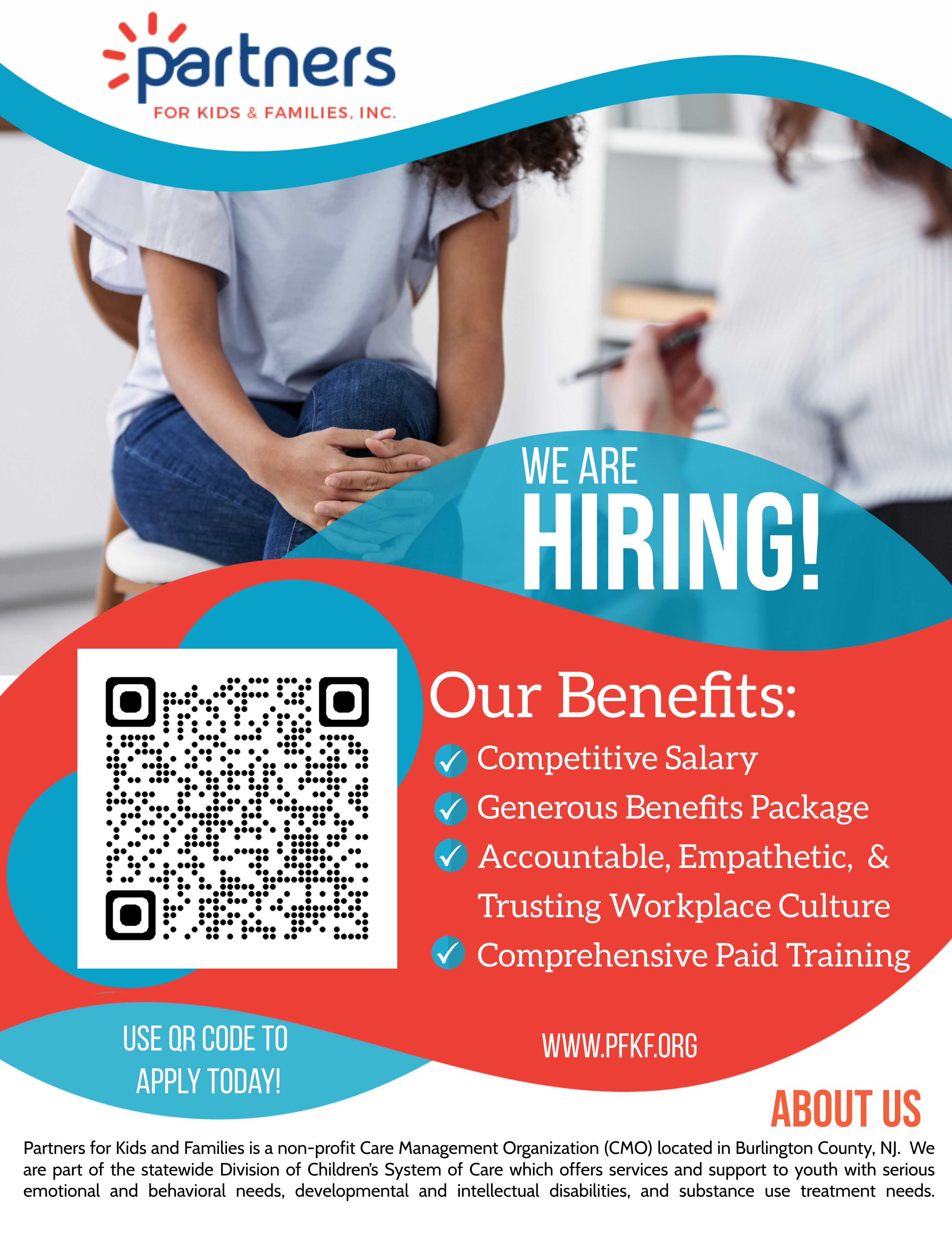 Partners for Kids and Families, Inc.
122B Burrs Road Mt. Holly, NJ 08060
609-518-6800 ext. 2233 Fax 609-518-6900
Learn More