Mission Statement The Youth Department of Tabernacle Baptist Church is committed to loving our youth with the love of Christ, engaging them in ministry, exposing them to the word of God, and equipping them to be faithful, lifelong disciples of Jesus Christ.
Angela Bankston, Youth Director Christina Watson, Assist. Youth Director Contact the Ministry
Hope you're missing us as much as we're missing you!! It's Time....We hope you're ready to REUNITE & REIGNITE with H.Y.P.E. Fill out the survey below.
TABERNACLE BAPTIST CHURCH 2021 Scholarship (2 Year Membership Required)
High School Scholarship (Application closed 4/30)
Continuing Education Scholarship (Application closed 4/30)
OTHER 2021 Scholarships Available To ANY Eligible Student
NAACP Scholarships and Interships
Burlington County Deacons Fellowship Scholarship
Nellie M Suggs Memorial Scholarship
Omega Psi Phi, Inc. Charles Richard Drew Scholarship
Omega Psi Phi Fraternity, Inc. Nu Nu Chapter Brother Thomas H. Mayfield Scholarship
Trenton Kappa Foundation
Upsilon Delta Omega Chapter, Alpha Kappa Alpha Sorority, Inc. High School Scholarship
In these trying times we are all adjusting to the New Norms. The Youth Leadership wants to make sure you stay connected and uplifted during this time.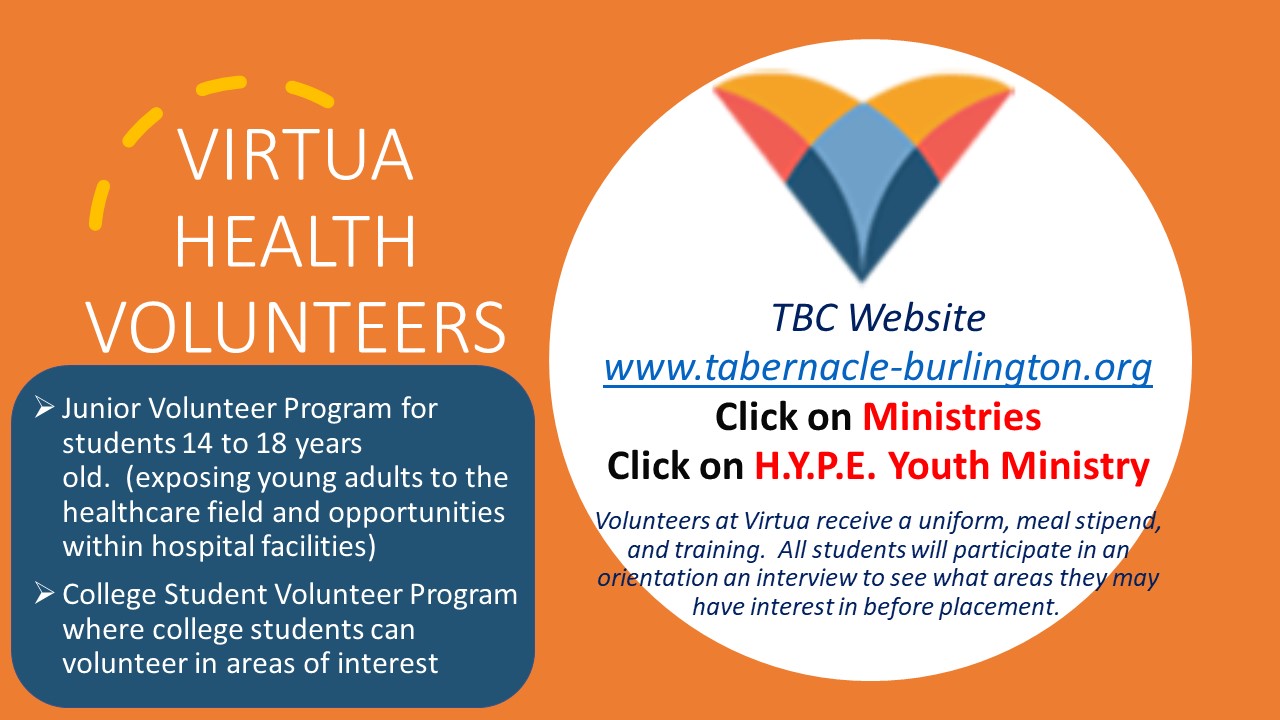 VIRTUA HEALTH VOLUNTEERS
Volunteers at Virtua receive a uniform, meal stipend, and training. All students will participate in an orientation an interview to see what areas they may have interest in before placement.
HYPE Youth Ministry
The H.Y.P.E. Staff is committed to the holistic growth of the youth and is aligned to the mission and vision of the entire Youth Ministry. Each team will support in helping the team leaders implement their responsibilities to ensure that each individual plays an integral part of the ministry.